| | |
| --- | --- |
| Touhou - Wandering Souls | |
MonkeyPro
Featured Game
Engine:
RpgMakerVX
Downloads:
861
Page Views:
4,480
File Size:
138.57 MB
Description
Wandering Souls is a side scrolling action rpg based on Touhou Project. Emphasis is placed on gameplay, rather than storyline. It supports key configuration / joystick compatibility and has a lot of unique attacks and skills. Spend hours bashing baddies!
Reviews
There is 1 review for this game.
Please choose a Review to display below:
Highly Addictive! by Glaciermage ( 0)
Highly Addictive! by Glaciermage
I think at times us amateurs try to create an epic storyline for our games... and fail miserably. Estheone avoids that in this game by not putting a lot of emphasis on the storyline. That fact didn't seem to bother me at all.
This game felt professionally done to me in so many ways. It's easy to just get into a rhythm of killing bad guys and lose track of time. I loved being able to use a controller. I also enjoyed the fact that there is some strategy involved, and it can be tricky to do some of the combos. Not so tricky that it's frustrating, but just enough where you can't mash buttons.
I was impressed overall with this game.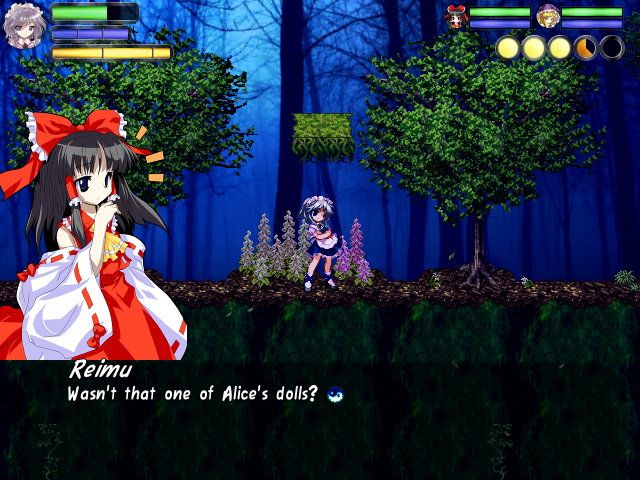 The graphics, the music, everything worked well together, and it is really a joy to have it on MonkeyPro.
Comments
January 29, 2013 - 01:23 AM

This looks really neat.
You must be signed in to enter a comment for this game.