Member of the Week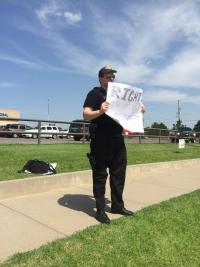 Whatever each of us may think of him, Streets definitely had an impact on this site. He was Rookie of the Year when he first joined us, he was honored as Member of the Week shortly after joining due to his penchant for arguing, and a deprecated forum was reinstated due to his activity. Streets' recent departure was received with...mixed reactions, but as was said in the previous update topic, you will be welcomed if you ever chose to return to MP. Preferably unarmed.
Game of the Week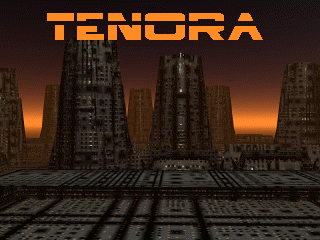 I've been in a mecha mood recently, so I went down our list of games looking for some science fiction, ideally with robots. Tenora is definitely sci-fi...but I couldn't make myself play long enough to discover whether or not it has robots. I think the main character is simply too much of an expert dual pistol firerer for me to handle. Seriously, don't bother unless you're feeling nostalgic for entry-level rpg maker fare.
Poll of the Week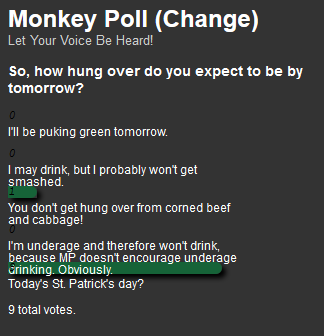 Looks like the results got a bit drunk instead of us this year.
New poll: Um...sure, giant robots. Why not.
Entertainment of the Week
Lots o' Vidja Games
Counter Spy, Monument Valley, Transistor, Papers Please, One Way Heroics, Final Fantasy XV demo, Final Fantasy Type-0 HD, Fantasy Life, Crusader Kings 2, Dwarf Fortress, possibly Dragon Age: Inquisition, Star Wars: Knights of the Old Republic, Mario Party 10, Super Mario 3D World, Monster Hunter 4 Ultimate
Movers
M*A*S*H, Wreck-It Ralph, Community, Magical Shopping Arcade Abenobashi, Unbreakable Kimmy Schmidt
Just Me Reading Books by Myself
Path of Daggers, Winter's Heart
And Lots o' Music (Videos)
Shepherd of Fire (Avenged Sevenfold), We Will Kill the Breath of Bangarang (Queen vs Rage Against the Machine vs Prodigy, vs Skrillex), Somebody Warped Kernkraft (Killers vs Zombie Nation vs Bloody Beetroots), Dope Crunk (Beats Antique), Don't Stop (Foster the People), Should Have Known Better (Sufjan Stevens), Rising (Yoshida Brothers), The Real Pink Pony (Vannamelon), Story of My Life (Smash Mouth)