I'm at the end of my vacation from work, and my vacation from reality (AKA, too much Skyrim), so I'm actually doing my weekly update this week. Sorry about that madness a few weeks ago where I just kinda didn't exist. So... What exactly happened this week? Anything important?
THAT'S RIGHT! MEMBER OF THE YEAR AWARD SHOW!
Live Stream (Well, it was live. Now it's just on youtube)
Thanks again to everyone who voted, and especially to everyone who participated, whether it was via skype or in the Twitch chatroom. It was great to have everybody there!
I'ma go on to the weeklies now.
Member of the Week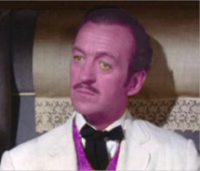 Stars
Do you guys know what Stars did for us last week (well, really over the course of a month or so)? He made a pretty neat RPG Maker game to help present the Member of the Year awards. Why is this great? Because without it, I probably would have just presented the awards in the most boring way possible: by just saying them. With it, our award show was filled with cheesy, inconsistent voice acting, the community's lack of trust in my ability to win battles (by constantly reminding me to save), and ridiculous, unpracticed and embarrasing singing. All of those things were made possibly by Stars' awesome contribution to our MOTY award show. Thanks, Stars!
Game of the Week
Hey dudes, The Infinite is looking people to help test a project of his from back in the old RM2k3 days. Like some back in the day, The Infinite liked to use RM2k3 to make games outside of the top down JRPG style. Lasting Dreams is a side scrolling action adventure style game that reminds me a lot of Zelda 2: Adventure of Link. You find different weapons and items, and make your way through various environments. It's pretty neat, and your feedback is needed!
Last Week's Poll
How many members do you think voted for themselves this year?

poll.png 27.52KB 0 downloads
So, we're very untrusting, because "Probably everybody" is the number one result. Nice :) So, Stars, did you keep track of this? How many people did actually vote for themselves?
This Week's Poll
Which coming attraction are you most looking forward to?
(Not sure what this means? Either watch the first half hour of the live stream, or rock out to this youtube playlist: http://www.youtube.c...Q0_UYL5_GzwTlUp
What did we play?
Life is Strange; Minecraft; H1Z1; NBA 2k15; Rogue Legacy; The Legend of Zelda: A Link Between Worlds; Pokemon Alpha Sapphire; Anime Studio Story; Persona 3 Portable; The Elder Scrolls V: Skyrim
What did we watch?
Portlandia (TV); Now You See Me (Movie); Interstellar (Movie); Arrow (TV); How To Get Away With Murder (TV); Agent Carter (TV)
What did we hear?
Only Skin by Joanna Newsom; Brony Polka by The Internet...; Interstellar Soundtrack by Hans Zimmer; Vicious Parker's Terrible Ad-libbed Singing by Vicious Parker
What did we read?
Ancillary Justice by Ann Leckie; The Martian by Andy Weir
Vicious Parker will return